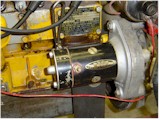 High RPM Starter
w/Mounting Plate

High RPM Starter
w/Mounting Plate
This was mounted over the speedometer on a Super Sport I owned. It is nicely made and laminated. It acts as a tachometer letting the driver know what the engine speed based on the gear and speed the car is traveling. Pretty cool!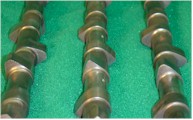 Crosley Racing Cams:
In all three pictures, the cam in the middle is the standard Crosley camshaft - note the narrow, pointed lobes. The cam on the right is a 3/4 race cam. The cam on the left is a full-race cam. (Click images to enlarge).